PUBLIKUMSPREIS-GEWINNER:innen | AUDIENCE PRIZE WINNERS
HAAR NAAM WAS | HER NAME WAS
HELENA DALEMANS | BEL 2018 | SPIELFILM | 18:03
Ida ist ihrem Schicksal ausgeliefert. Nach einem langen selbstbestimmten Le­ben sind ihre Muskeln schlaff, ihre Blase versagt immer wieder und sie sieht ihre Freiheit an den Händen der Pfleger:innen hängen. Doch eines Tages bekommt das Altersheim einen neuen Bewohner, Jef. Er hilft ihr zu neuem Schwung und zusammen schaffen sie es, die Tristesse zu überwinden.
Helena Dalemans ist belgische Filmregisseurin, Drehbuchautorin und Schriftstellerin. Sie studierte an der LUCA School of Arts in Brüssel, HAAR NAAM WAS ist ihr Abschlussfilm.
Ida is at the mercy of her fate. After a long self-determined life, her muscles are limp, her bladder fails again and again. She sees her freedom hanging on the slopes of the nurses. But one day the retirement home gets a new resident, Jef: he helps her to new vigour and together they manage to overcome the dreariness.
Helena Dalemans is a Belgian film director, screenwriter and writer. She studied at the LUCA School of Arts in Brussels, HER NAME WAS is her graduation film.
LA FAMILLE DAKOTA | THE DAKOTA FAMILY
Toni Hilgersson | BEL 2018 | Spielfilm | 29:45
Eine seltsame Kreatur streift um Opa Dakota herum. Der Patriarch weiß, dass es an der Zeit ist, die Mitglieder seines Stammes zu rufen. Eine Familie, seine Familie, atypisch und zerlegt, wird sich dann wieder vereinen müssen. Werden sie rechtzeitig ankommen, um einen letzten Moment mit ihrem Clanchef zu teilen? LA FAMILLE DAKOTA ist eine Geschichte über Familie, Trauer und vor allem Übertragung.
Toni Hilgersson studierte Film-Editing am INRACI Brüssel. Er verbindet seine Leidenschaft zu Musik und Film und inszeniert viele Musikvideos. LA FAMILLE DAKOTA ist sein erster Kurzfilm.
A strange deathlike creature roams around grandpa Dakota. The patriarch knows it's time to call on the members of his tribe. A family, his family, atypical and dismantled will then have to reunite. Will they arrive in time to share a last moment with their clan chief? The Dakota family is a poetic tale on family, grief, and above all, transmission.
Toni Hilgersson studied film editing at INRACI Brussels. He combines his passion for music and film and produces many music videos. THE DAKOTA FAMILY is his first short film.
LIVING WITH THE NEVER-MIND™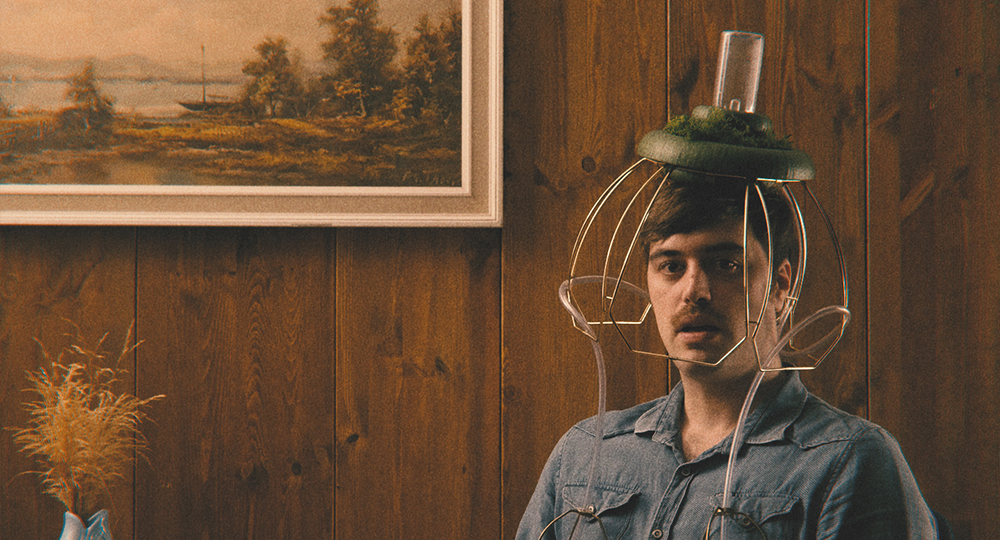 KONSTANTIN ENSTE | DEU 2019 | SPIELFILM | 01:33
Frank ist traurig. Frank weint ständig. Frank möchte seiner Trauigkeit Bedeutung geben. Er besorgt sich das NEVER-MIND™ und seine Tränen haben einen Zweck. Der Grund seiner Traurigkeit? Egal.
Konstantin Enste hat früher immer Lego-Raumschiffe gebaut, heute macht er gerne Filme. LIVING WITH THE NEVER-MIND wurde in einem 13,5m² großen Raum gedreht. Konstantins Unterkunft beim OEFF fällt kleiner aus…
Frank is sad. Frank cries all the time. Frank wants to give meaning to his sadness. He gets the NEVER-MIND™ and his tears have a purpose. The reason for his sadness? Never mind.
Konstantin Enste used to build Lego spaceships, today he likes to make movies. LIVING WITH THE NEVER-MIND was shot in a 13.5m² room. Konstantin's accommodation at 26th OEFF is smaller…
- DOKUMENTARFILM | Documentary
Christoph Schwarz | AUT 2018 | Dokumentarfilm | 29:59

 
Bünde, Seilschaften, Netzwerke — dieser Dokumentarfilm offenbart die elitären Zirkel, legt ihre Struktur und ihr Wirken offen. Eine nicht eben humorloser Blick auf den vernetzten Alltag zwischen Facebook und Männerbund mit Christoph Schwarz, Christoph Schwarz, Christoph Schwarz, Christoph Schwarz und Christoph Schwarz.
Christoph Schwarz ist ein österreichischer Medienkünstler und Filmemacher. Er studierte visuelle Mediengestaltung an der Universität für angewandte Kunst Wien. Christoph setzt sich in seinen Arbeiten oft auf humorvolle und selbstreflexive Weise mit Problemen der Medienwirklichkeit auseinander.
Frets and networks – this documentary film reveals the elitist circles, their structure and their work. A not exactly humorless look at the networked everyday life between Facebook and male association with Christoph Schwarz, Christoph Schwarz, Christoph Schwarz, Christoph Schwarz, Christoph Schwarz and Christoph Schwarz.
Christoph Schwarz is an Austrian media artist and filmmaker. He studied visual media design at the University of Applied Arts Vienna. In his works Christoph often deals with problems of media reality in a humorous and self-reflexive way.
MICHAELA TASCHEK | AUT, DEU 2018 | DOKUMENTARFILM | 20:00
Früher lebensfroh und gesellig, später eigenbrötlerisch und menschenscheu – während des Abfilmens alter Fotoalben und der Wohnräume ihrer Familie erzählt die Filmemacherin mit ruhiger Stimme die Geschichte ihres Vaters, der irgendwann durch einen Doppelgänger ersetzt worden sein musste.
Michaela Taschek studierte Drehbuch an der Filmakademie Baden-Württemberg und arbeitete unter anderem für die Kurzfilmtage Oberhausen. Mit DOPPELGÄNGER gewann sie "Best Newcomer" beim Vienna Short.
Formerly cheerful and sociable, later reclusive and shy – while filming old photo albums and the living quarters of her family, combined with family photos, the filmmaker tells the story of her father in a quiet voice, who at some point must have been replaced by a doppelganger.
Michaela Taschek studied screenwriting at the Baden-Württemberg Film Academy and worked for the Oberhausen Short Film Festival, among others. With DOPPELGÄNGER she won "Best Newcomer" at Vienna Short.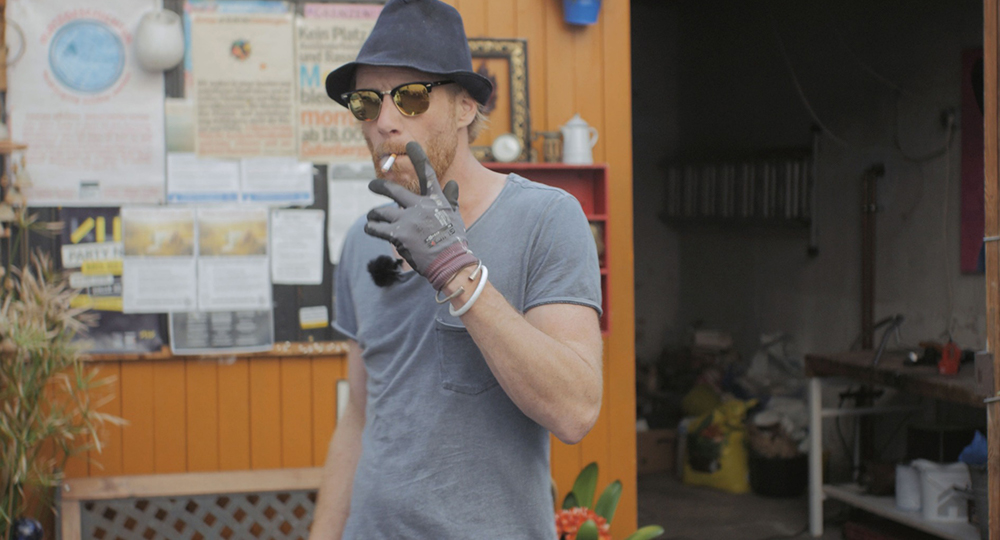 RONJA HEMM | DEU 2019 | DOKUMENTARFILM | 15:54
Die Mainzer Trödellandschaft wäre ohne das Brockenhaus um einen Beitrag ärmer. Das Portrait Stephans, des Besitzers des Trödelladens, zeigt dessen alltägliches Leben zwischen Antiquitäten, Möbeln und Hausauflösungen, während Sinn und Unsinn, Wertigkeit und Wertlosigkeit das Sein, Wollen und Werden thematisiert werden.
Ronja Hemm ist Animationskünstlerin und Filmemacherin. Sie studiert Zeitbasierte Medien an der Kunsthochschule Mainz.
Without the Brockenhaus, shopping for second-hand pieces in Mainz wouldn't be the same. This portrait of Stephan, the owner of the shop, shows him living in his daily routine, looking for new antiques and other goods for his shop, while thematicising questions of being, wanting and becoming, sense and nonsense, value and worthlessness.
Ronja Hemm is an animation artist and filmmaker. She studies time-based media at the Kunsthochschule Mainz.
DER TOD DES FILMEMACHERS | DEATH OF THE FILMMAKER
Cornelius Koch | DEU 2019 | Animationsfilm | 19:52
Filme über Film gelten als solche von besonderer reflexiver Verdichtung. Sie führen die Bedingungen der Möglichkeit filmischer Bedeutung vor, zeigen sich mal als Hommagen an die Magie des Kinos, mal als kritische Selbstaufklärer. Nur selten finden sie sich aber in der Form eines animierten Genrefilms aufgelöst.
Cornelius Koch hat Filmwissenschaft und Philosophie an der Universität Mainz und Zeitbasierte Medien an der HS Mainz studiert. Seit 2014 arbeitet er als studentische Hilfskraft beim ZDF als Musikberater. Er hat bereits mehrere Animationsfilme mit Stopmotion-Animationen produziert.
Films about film are regarded as those of particular reflexive density. They present the conditions of the possibility of cinematic meaning, sometimes as homages to the magic of cinema, sometimes as critical self-enlighteners. Only rarely do they find themselves dissolved in the form of an animated genre film.
Cornelius Koch studied film studies and philosophy at the University of Mainz and time-based media at the Mainz University of Applied Sciences. Since 2014 he works as a student associate at the ZDF, as a consultant in the music department. He already made many animated films, using stop-motion animations.
NUIT CHÉRIE | SWEET NIGHT
LIA BERTELS | FRA 2018 | Animationsfilm | 13:43

Einen Bären quält die Schlaflosigkeit während des Winterschlafes. Ein kleines Äffchen flüchtet sich vor dem furchteinflößenden Yeti in die Höhle des Bären. Zwischen vertrauensvollem Umgang mit den anderen Kreaturen und gleichzeitiger Wachsamkeit machen sich die beiden auf eine gemeinsame Reise, um Frieden zu finden Genrefilms aufgelöst.
Lia Bertels ist Filmemacherin, Animatorin und Illustratorin. Bisher hat sie einige Musikvideos gedreht und Dokumentarfilme animiert. NUIT CHÉRIE ist der zweite Animationsfilm, bei dem Lia als Regisseurin tätig war.
A bear is suffering from insomnia while it should be hibernating. A little monkey comes into its cave, as it is fleeing from the terrifying Yeti. Looking for peace, the both of them start their journey, trustfully towards all creatures and vigilant at the same time.
Lia Bertels is a filmmaker, animator, and illustrator. So far she has made several music videos and animated documentaries. NUIT CHÉRIE is her second animated short film.
COMO Y PORQUE SE HA ESFUMADO DON JOSE | HOW AND WHY DON JOSE DISSIPATED
MOSHE BEN-AVRAHAM | ESP, ISR 2018 | ANIMATIONSFILM | 12:38
Die Rettung einer Biene verwandelt sich in einen surrealen Traum auf verschiedenen. In einer sich stetig fortsetzenden Bewegung steigert sich dieser visuell reichhaltige Zeichentrickfilm von einer Urlaubsansicht zur absurd-skurrilen Farb- und Formwahrnehmung.
Moshe Ben-Avraham schloss 2009 sein Studium an der Musrara School of Arts in Jerusalem ab. Heute lebt er in Obergaliäa und arbeitet als Animator, Filmemacher und Künstler.
The rescue of a bee turns into a surreal dream. In a continuous movement, this visually rich animated film increases from a holiday view to an absurdly bizarre perception of colour and form.
Moshe Ben-Avraham graduated from the Musrara School of Arts in Jerusalem in 2009. Today he lives in Upper Galilee and works as an animator, filmmaker and artist.
LUCIA BULGHERONI | GBR 2018 | ANIMATIONSFILM | 08:39
Katrine lebt ein normales Leben in jeder Hinsicht. Es gibt viel zu tun, es gilt, vielen Interessen gerecht zu werden und alles unter einen Hut zu bekommen. Klappt doch ganz gut, oder? Bis alles auseinanderfällt. 
Lucia Bulgheroni ist eine italienische Animationsfilmregisseurin. Während ihres Filmstudiums am Institut für europäisches Design in Mailand begann Lucia mit Stopmotion-Animationen und erkannte das Potenzial des Mediums. Ihr Hauptinteresse gilt Fragen der Philosophie, Psychologie und ihres eigenen Unterbewusstseins — abstrakte Themen, die sich perfekt für die Visualisierung durch Animationen eignen.
Katrine has a normal life, a normal job, a normal boyfriend and a normal apartment in a normal city. Or at least thats what she thinks, until one day everything starts falling apart — literally!
Lucia Bulgheroni is an Italian animation director. While studying filmmaking at the Instituto Europeo di Design in Milan, Lucia first began exploring stop motion animation and discovered the potential of the medium. Her main interest lies in exploring issues surrounding philosophy, psychology and her own subconscious — abstract themes perfectly suited to be visualised through the medium of animation.
- EXPERIMENTALFILM / MUSIKVIDEO | EXPERIMENTAL FILM / Music Video
ROLAND CREMERIUS | DEU 2017 | MUSIKVIDEO | 03:18
Seitan, Bulgur, Amaranth, Hirse, Quinoa – was wie eine wirre Ansammlung von Koch- und Backzutaten klingt, ergibt in der Summe mit einer Prise Musik ein tanzbares Ganzes, das mit Found Footage ins Bewegtbild übertragen wird und damit das vegane Sahnehäubchen aufgesetzt bekommt – mit unserem Sneak-Gewinnerfilm 2019 hat das Publikum Geschmack bewiesen!
Roland Cremerius hat Germanistik und Psychologie studiert. Er hat diverse Musikvideos produziert und arbeitet nachts in einer WG für Menschen mit Demenz. Seit Oktober 2017 studiert er Film an der Hochschule für Bildende Künste in Hamburg.
Seitan, bulgur, amaranth, millet, quinoa – almost the same words in English as in German, these cooking and baking ingredients seem to be an accidental accumulation of food. But naming them one another, adding a dash of music and adorning the whole with found footage makes a catchy music video. With the winner of the 2019 sneak preview the audience has proved taste!
Roland Cremerius studied German language and literature and psychology. He has produced various music videos and works at night in a shared flat for people with dementia. Since October 2017 he studies film at the Hochschule für Bildende Künste in Hamburg.
A YEAR ALONG THE GEOSTATIONARY ORBIT
FELIX DIERICH | DEU 2018 | EXPERIMENTALFILM | 15:59
35786 km über der Erde beobachtet der japanische Satellit Himawari-8 die östliche Hemisphäre. Seine Bilder und wissenschaftlichen Beobachtungsdaten sind die Grundlage einer filmischen Jahreschronik, die die Beobachtung aus dem Kosmos animiert. Der Ton besteht aus einer Mischung von Samples, die algorithmisch auf den Videobildern basieren.
Felix Dierich schloss 2008 seinen Diplom-Studiengang in Informatik mit Nebenfach Kunst und Medien an der Uni Oldenburg ab. Hauptberuflich arbeitet er im Bereich erneuerbarer Energien.
The Japanese Himawari-8 satellite observes the eastern hemisphere 35786 km above Earth.  Its images and scientific observational data form the basis of a filmic chronicle of the year that animates observations from the cosmos. The sound consists of a mixture of samples algorithmically based on the video images.
Felix Dierich completed his diploma in computer science with a minor in art and media at the University of Oldenburg in 2008. He works in the field of renewable energies.
LA VIA DIVINA | THE DIVINE WAY
ILARIA DI CARLO | DEU 2018 | EXPERIMENTALFILM | 15:00
Treppauf, treppab führt dieser Film durch verschiedene Treppenhäuser und begleitet eine Dame dabei, Treppen aller Epochen zu besteigen; von breit und dicht bis leicht und luftig — höher und höher, bis sie bei der Trinität ankommt.
Ilaria Di Carlo ist eine bildende Künstlerin, die in den Bereichen Film, Szenografie, Installation und darstellende Kunst arbeitet. Ihre aktuelle künstlerische Arbeit konzentriert sich auf bewegte Bilder und experimentelle Filme, die sich mit dem Thema Reisen und Sprachen der Identität in Beziehung oder im Kontrast zu Landschaft und Architektur beschäftigen. Sie lebt und arbeitet in Berlin.
Upstairs and downstairs, this short film leads through different stairways, accompanying a lady while climbing stairs of all epochs, from wide and stony to light and airy — higher and higher until meeting divine trinity.
Ilaria Di Carlo is a visual artist working in the fields of filmmaking, scenography, installation, and the performing arts. Her current artistic work focuses on moving images and experimental films that explore the theme of journey and the language of identity in relation with or in contrast to landscape and architecture. She lives and works in Berlin.
DER BLAUE KRAN 2.0 | THE BLUE CRANE 2.0
MARLEN FRIEß | DEU 2019 | EXPERIMENTALFILM | 01:36
Auf einem blauen Kran vor Großstadtkulisse tanzt die SEAD Tanzstudentin Lena Klink zu einem Stück von Say Yes Dog in luftigen Höhen. Eine Freundschaftsproduktion von Filmemacherin und Tänzerin aus Liebe zu Musik, Tanz und Freiheit.
Marlen Frieß ist Filmproduzentin aus Frankfurt. DER BLAUE KRAN 2.0 ist eine Zusammenarbeit mit der SEAD Tanzstudentin Lena Klink, die neben einer langjährigen Freundschaft die Liebe zu Tanz, Musik und Freiheit teilen.
On a blue crane in front of a big city scenery the SEAD dance student Lena Klink dances to a piece of Say Yes Dog in airy heights. A friendship production of filmmaker and dancer out of love for music, dance and freedom.
Marlen Frieß is a film producer from Frankfurt. THE BLUE CRANE 2.0 is a collaboration with SEAD dance student Lena Klink, who share a long lasting friendship and a love for dance, music, and freedom.